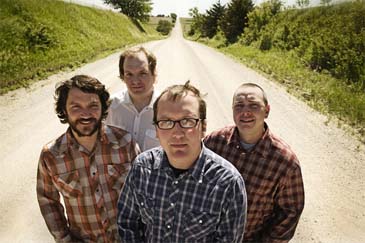 Cursive are a four-piece from Omaha, Nebraska on Saddle Creek, the label founded by Bright Eyes wunderkind Conor Oberst when he was all of 13 years old. Their seventh full-length came out yesterday and here's the single, a fantastic song featuring the
intelligent lyrics
that mark this band.
We're all just trying to play our roles
In a play that runs ad nauseam
I hate this damn enlightenment
We were better off as animals, right?
MP3 Cursive - From the Hips
(from 2009's Mama, I'm Swollen)
You can also watch them do this song on Letterman
here
.